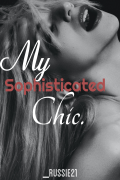 Sypnosis
What could be the possible scenarios when the present meets your past?
She's one of the famous models, an eye-catcher, a beauty that no one could resist, and the in-demand model because of her charms and talent. But behind the girl that everyone adores lies a dark past that she was not prepared to come to pass. The loneliness she once hated, bearing her kidnapper's child alone. The man she met who helped her and accepted her for who she was being happily married but what will happen when the man she once loved came back after years when she thought everything was in place?
They say choose your battle wisely, but will she able to win against the battle of love? Would she let the man who destroyed her once enter her life again?
A battle between affairs, love, and fear.
This is her, This is my story.
| Chapters | Date |
| --- | --- |
| Ch. 35Chapter 35 coincidence or fate? | Jun 27, 2022 |
| Ch. 34Chapter 34 | Jun 27, 2022 |
| Ch. 33Chapter 33 | Jun 27, 2022 |
| Ch. 32Chapter 32 | Jun 27, 2022 |
| Ch. 31Chapter 31 | Jun 27, 2022 |
| Ch. 30Chapter 30 | Jun 27, 2022 |
| Ch. 29Chapter 29 | Jun 27, 2022 |
| Ch. 28Chapter 28 | Jun 27, 2022 |
| Ch. 27Chapter 27 | Jun 27, 2022 |
| Ch. 26Chapter 26 | Jun 27, 2022 |
| Ch. 25Chapter 25 | Jun 27, 2022 |
| Ch. 24Chapter 24 | Jun 27, 2022 |
| Ch. 23Chapter 23 | Jun 27, 2022 |
| Ch. 22Chapter 22 | Jun 27, 2022 |
| Ch. 21Chapter 21 | Jun 27, 2022 |
| Ch. 20Chapter 20 | Jun 27, 2022 |
| Ch. 19Chapter 19 | Jun 27, 2022 |
| Ch. 18Chapter 18 | Jun 27, 2022 |
| Ch. 17Chapter 17 | Jun 27, 2022 |
| Ch. 16Chapter 16 | Jun 27, 2022 |
| Ch. 15Chapter 15 | Jun 25, 2022 |
| Ch. 14Chapter 14 | Jun 25, 2022 |
| Ch. 13Chapter 13 | Jun 25, 2022 |
| Ch. 12Chapter 12 | Jun 25, 2022 |
| Ch. 11Chapter 11 | Jun 25, 2022 |
| Ch. 10Chapter 10 | Jun 25, 2022 |
| Ch. 9Chapter 9 | Jun 25, 2022 |
| Ch. 8Chapter 8 | Jun 25, 2022 |
| Ch. 7Chapter 7 | Jun 25, 2022 |
| Ch. 6Chapter 6 | Jun 25, 2022 |
| Ch. 5Chapter 5 | Jun 25, 2022 |
| Ch. 4Chapter 4 | Jun 25, 2022 |
| Ch. 3Chapter 3 | Jun 25, 2022 |
| Ch. 2Chapter 2. | Jun 25, 2022 |
| Ch. 1Chapter 1: Stone Family | Jun 25, 2022 |