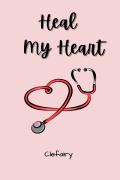 Heal My Heart
Last Post:
February 23, 2023
After getting her heart broken five times, Sandra thought she could never be happy again in love. But when Dylan, the most handsome pediatrician, came into her life, she couldn't help but fall for his charms.
Is Dylan the happy ending that she's been waiting for? Or will she end up with a broken heart again?
P
You need 1 point to view each paid chapter.
Chapters
Date
Ch. 31Thirty

p

Feb 23, 2023
Ch. 30Twenty Nine

p

Feb 23, 2023
Ch. 29Twenty Eight
Feb 21, 2023
Ch. 28Twenty Seven
Feb 21, 2023
Ch. 27Twenty Six

p

Feb 21, 2023
Ch. 26Twenty Five
Feb 21, 2023
Ch. 25Twenty Four

p

Feb 21, 2023
Ch. 24Twenty three
Feb 21, 2023
Ch. 23Twenty Two

p

Sep 25, 2022
Ch. 22Twenty One
Sep 25, 2022
Ch. 21Twenty

p

Sep 25, 2022
Ch. 20Nineteen
Sep 25, 2022
Ch. 19Eighteen
Sep 25, 2022
Ch. 18Seventeen

p

Sep 25, 2022
Ch. 17Sixteen
Sep 25, 2022
Ch. 16Fifteen

p

Sep 25, 2022
Ch. 15Fourteen
Sep 25, 2022
Ch. 14Thirteen

p

Sep 25, 2022
Ch. 13Twelve
Sep 25, 2022
Ch. 12Eleven
Sep 25, 2022
Ch. 11Ten

p

Sep 24, 2022
Ch. 10Nine
Sep 24, 2022
Ch. 9Eight

p

Sep 24, 2022
Ch. 8Seven
Sep 24, 2022
Ch. 7Six
Sep 24, 2022
Ch. 6Five

p

Sep 24, 2022
Ch. 5Four
Sep 24, 2022
Ch. 4Three

p

Sep 21, 2022
Ch. 3Two
Sep 21, 2022
Ch. 2One
Sep 21, 2022
Ch. 1Prologue
Sep 15, 2022