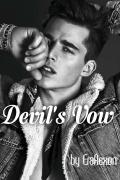 Devil's Vow( Original Version)
Last Post:
April 23, 2021
"It could have been hatred but you don't look at the one you hate, like that."
"Like what?" His deep voice asked.
"Like you are a sinner and she is your salvation."
___________________________
"I played you as a doll huh?" His hot breath whispered in my ear as he twisted my body making my back mould into his warm chest, his arms coming around my waist, holding me like I was fragile flower....made of crystal porcelain.
"Have you seen yourself princess? Not a doll, my little treasure, MY doll and I promise the one who lays a finger on you will prefer the dark depths of molten hell than his life."
*No toxic relationship*
Chapters
Date
Ch. 36Die 3
Apr 23, 2021
Ch. 35Die 2

p

Jul 31, 2022
Ch. 34Die

p

Apr 23, 2021
Ch. 33HIM AND HER

p

Oct 28, 2020
Ch. 32HIS LOVE
Oct 28, 2020
Ch. 31THREAT 1

p

Aug 29, 2021
Ch. 30EMPIRES

p

Jul 31, 2022
Ch. 29EMPIRES

p

Jul 31, 2022
Ch. 28LITTLE DEVIL

p

Jul 31, 2022
Ch. 27PRINCESS

p

Jul 31, 2022
Ch. 26JOY AND PAIN

p

Jul 31, 2022
Ch. 25an escape from death, an invitation to death

p

Jul 31, 2022
Ch. 24Epilogue

p

Jul 31, 2022
Ch. 23WAR 2

p

Aug 29, 2021
Ch. 22WAR 1

p

Oct 28, 2020
Ch. 21LOVE (2 chapters in one)

p

Jul 31, 2022
Ch. 20crimes

p

Oct 28, 2020
Ch. 19connections

p

Oct 28, 2020
Ch. 18betrayed

p

Oct 28, 2020
Ch. 17Achilles' heel
Oct 28, 2020
Ch. 16HER SLAVE

p

Aug 20, 2021
Ch. 15Feelings

p

Oct 27, 2020
Ch. 14The Vow

p

Oct 27, 2020
Ch. 13Devil's incarnation

p

Oct 27, 2020
Ch. 12DILLEMA

p

Oct 27, 2020
Ch. 11Her Dreams

p

Oct 27, 2020
Ch. 10the truth

p

Oct 27, 2020
Ch. 9Enemity

p

Oct 27, 2020
Ch. 8FURY 2 CHAPTERS IN 1

p

Oct 27, 2020
Ch. 7Wounds reaopened
Oct 27, 2020
Ch. 6THE BALL FACADE

p

Jun 6, 2021
Ch. 5Traitor; arrival to Russia
Oct 27, 2020
Ch. 4poisonous
Oct 27, 2020
Ch. 3Lethal
Oct 27, 2020
Ch. 2THE BEGINNING
Oct 26, 2020
Ch. 1FIRE AND ICE: introduction
Oct 27, 2020