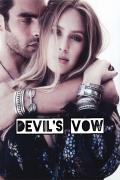 Devil's Vow( New version-Rewritten)
Why do I feel my frozen heart melt sometimes?
Is there anyone whose tears have my pain....I, the one who owed to rule the entire world feels empty when the feeling resides.
Who are you, a dream so far yet so near to my heart, I wish to hold you so near, clutching you closer as if you may disappear.
I was raised to be the emperor who would rule them all and then crush them beneath my feet for I have been betrayed and lied to. Those who have been against me were the ones who had to face my wrath yet when it came to you why I, the one who had never cried felt so weak, my dear enemy why did you made me fell on my knees?
P
You need 1 point to view each paid chapter.
Chapters
Date
Ch. 25HIS

p

Jul 18, 2022
Ch. 24HER SLAVE

p

Jul 18, 2022
Ch. 23FEELINGS

p

Jul 18, 2022
Ch. 22APHRODISIAC

p

Jul 18, 2022
Ch. 21Dilemma

p

Jul 18, 2022
Ch. 20He has come

p

Jul 18, 2022
Ch. 19Ajax

p

Jul 18, 2022
Ch. 18Her dreams

p

Jul 18, 2022
Ch. 17TRUTH

p

Jun 11, 2022
Ch. 16FURY

p

Jun 11, 2022
Ch. 15Wounds

p

Jun 11, 2022
Ch. 14BALL

p

Jun 11, 2022
Ch. 13Shadow

p

Jun 11, 2022
Ch. 12In his bed

p

Jun 11, 2022
Ch. 11She is my prey or maybe I am hers

p

Jun 11, 2022
Ch. 10Ignorance

p

Jun 11, 2022
Ch. 9Poisonous

p

Nov 27, 2021
Ch. 8Lethal

p

Oct 27, 2021
Ch. 7I could not stop staring

p

Oct 27, 2021
Ch. 6Aftermath

p

Oct 27, 2021
Ch. 5The beginning

p

Oct 27, 2021
Ch. 4THE BEGINNING

p

Aug 29, 2021
Ch. 3I AM A WAYLON

p

Aug 29, 2021
Ch. 2I AM A STORM

p

Aug 29, 2021
Ch. 1Foreword
Aug 27, 2021