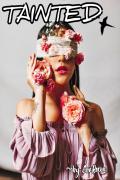 Tainted
Last Post:
April 26, 2021
Not everyone is born strong,
Some are soft like the cotton candy clouds, like the first rays before dawn.
Some are unaware of the dark thoughts and the cruelty that exists.
Like an enchanting pearl in an oyster..protected.
There comes a day they realise that even the sweetest red roses have thorns and then they begin their journey from virtue to sin.
And just like that they have to change.
"He took my virginity, broke my heart... stomped on it like it was the easiest thing to do.
What goes around comes around too because that's what I represent.... Karma."
P
You need 1 point to view each paid chapter.
Chapters
Date
Ch. 42Bonus
Apr 26, 2021
Ch. 41Epilogue

p

Jan 20, 2021
Ch. 40Ending of war

p

Jan 20, 2021
Ch. 39Beast

p

Jan 13, 2021
Ch. 38insanity

p

Jan 13, 2021
Ch. 37Premonition

p

Dec 16, 2020
Ch. 36Don't touch

p

Dec 16, 2020
Ch. 35Fire and flowers

p

Dec 16, 2020
Ch. 34Pawns and Queen

p

Dec 16, 2020
Ch. 33Aftermath

p

Nov 28, 2020
Ch. 32Break me 2

p

Nov 26, 2020
Ch. 31Show me

p

Nov 26, 2020
Ch. 30Love 2

p

Nov 26, 2020
Ch. 29Love

p

Nov 26, 2020
Ch. 28Caring

p

Nov 26, 2020
Ch. 27Monster

p

Nov 19, 2020
Ch. 26drenched

p

Nov 19, 2020
Ch. 25pain

p

Nov 16, 2020
Ch. 24Atrocious

p

Nov 16, 2020
Ch. 23girlfriend

p

Nov 16, 2020
Ch. 22LIES

p

Nov 13, 2020
Ch. 21kiss
Nov 6, 2020
Ch. 20Mayhem

p

Nov 6, 2020
Ch. 19And it begins

p

Nov 6, 2020
Ch. 18trust him

p

Nov 6, 2020
Ch. 17hurricane

p

Oct 30, 2020
Ch. 16burning

p

Oct 20, 2020
Ch. 15Baby

p

Oct 20, 2020
Ch. 14you

p

Oct 18, 2020
Ch. 13Protect

p

Oct 18, 2020
Ch. 12Feelings

p

Oct 18, 2020
Ch. 11rage

p

Oct 18, 2020
Ch. 10change of paths

p

Oct 18, 2020
Ch. 9Baby

p

Oct 18, 2020
Ch. 8worries

p

Oct 18, 2020
Ch. 7allies2

p

Oct 11, 2020
Ch. 6allies 1
Oct 11, 2020
Ch. 5collison;him and her

p

Oct 11, 2020
Ch. 4dreams and nightmares
Oct 11, 2020
Ch. 3diffrent ends of the world
Oct 11, 2020
Ch. 2RUINATION
Oct 11, 2020
Ch. 1THE BEGINNING OF THE END
Oct 11, 2020