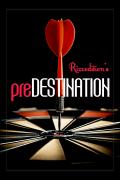 preDESTINATION
Last Post:
December 23, 2021
Secret relationships are known to be tragic but not as tragic as the one kept by Taeil and Donghyuck who happened to be professor and student which made their relationship forbidden. As well as exploiting Taeil's marriage with his beloved husband, Jungwoo Kim.
When Jungwoo finds out about their secret including Donghyuck's unborn child in Taeil's womb, he decides to take revenge, as well as to get his husband back.
Jungwoo eventually encounters Mark, a wealthy young man and Donghyuck's obsessive lover, studying in the same college as him. Mark offers Jungwoo to help him with the plan which Jungwoo avoids at first but goes ahead later on and they together proceed with their planning. However, things start unrolling in unexpected ways when Jungwoo and Mark start falling for each other and that's how the four souls start searching for their final destination which was already their predestination.
P
You need 1 point to view each paid chapter.
Chapters
Date
Ch. 23EPILOGUE

p

Feb 23, 2022
Ch. 22Final Chapter

p

Feb 23, 2022
Ch. 21Eighteenth Chapter

p

Feb 23, 2022
Ch. 20Seventeenth Chapter

p

Feb 23, 2022
Ch. 19Sixteenth Chapter

p

Feb 23, 2022
Ch. 18Fifteenth Chapter

p

Feb 23, 2022
Ch. 17Fourteenth Chapter

p

Feb 23, 2022
Ch. 16Thirteenth Chapter

p

Feb 23, 2022
Ch. 15Twelfth Chapter

p

Feb 23, 2022
Ch. 14Eleventh Chapter

p

Feb 23, 2022
Ch. 13Tenth Chapter

p

Feb 23, 2022
Ch. 12Ninth Chapter

p

Feb 23, 2022
Ch. 11FLASHBACK 3.0

p

Feb 23, 2022
Ch. 10Eighth Chapter

p

Feb 23, 2022
Ch. 9Seventh Chapter

p

Feb 23, 2022
Ch. 8Sixth Chapter

p

Feb 23, 2022
Ch. 7FLASHBACK 2.0
Dec 22, 2021
Ch. 6Fifth Chapter
Dec 22, 2021
Ch. 5Fourth Chapter
Dec 22, 2021
Ch. 4Third Chapter
Dec 22, 2021
Ch. 3Second Chapter
Dec 22, 2021
Ch. 2First Chapter
Dec 22, 2021
Ch. 1FLASHBACK 1.0
Dec 22, 2021