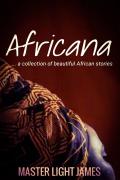 Africana (a collection of beautiful African stories)
Last Post:
April 11, 2022
Do you love Africa? Are you curious about the world's oldest and second largest continent? Do you want to catch a glimpse of urban Africa and a bit of rural tint? Then grab this heavy collection of African stories and stories set in Africa!
P
You need 1 point to view each paid chapter.
Chapters
Date
Ch. 34It's not always about the money 5

p

Apr 11, 2022
Ch. 33It's not always about the money 4

p

Apr 11, 2022
Ch. 32It's not always about the money 3

p

Apr 11, 2022
Ch. 31It's not always about the money 2

p

Apr 11, 2022
Ch. 30It's not always about the money

p

Apr 7, 2022
Ch. 29Boomerang 2

p

Apr 7, 2022
Ch. 28Boomerang

p

Apr 7, 2022
Ch. 27Fool me, fool me

p

Apr 7, 2022
Ch. 26Wrong Classification 2

p

Apr 7, 2022
Ch. 25Wrong Classification

p

Apr 7, 2022
Ch. 24One Bad Turn Deserves Another 8

p

Apr 7, 2022
Ch. 23One Bad Turn Deserves Another 7

p

Apr 7, 2022
Ch. 22One Bad Turn Deserves Another 6

p

Apr 2, 2022
Ch. 21One Bad Turn Deserves Another 5

p

Apr 2, 2022
Ch. 20One Bad Turn Deserves Another 4

p

Apr 2, 2022
Ch. 19One Bad Turn Deserves Another 3

p

Apr 2, 2022
Ch. 18One Bad Turn Deserves Another 2

p

Apr 2, 2022
Ch. 17One Bad Turn Deserves Another

p

Apr 2, 2022
Ch. 16Earn It 3

p

Apr 2, 2022
Ch. 15Earn It 2

p

Apr 2, 2022
Ch. 14Earn It

p

Mar 24, 2022
Ch. 13A Must-win Election 6

p

Mar 24, 2022
Ch. 12A Must-win Election 5

p

Mar 24, 2022
Ch. 11A Must-win Election 4

p

Mar 24, 2022
Ch. 10A Must-win Election 3

p

Mar 24, 2022
Ch. 9A Must-win Election 2

p

Mar 24, 2022
Ch. 8A Must-win Election 1

p

Mar 24, 2022
Ch. 7The Confession

p

Mar 24, 2022
Ch. 6Family Battle 4

p

Mar 24, 2022
Ch. 5Family Battle 3

p

Mar 24, 2022
Ch. 4Family Battle 2

p

Mar 24, 2022
Ch. 3Family Battle 1

p

Mar 24, 2022
Ch. 2In-law 2

p

Mar 19, 2022
Ch. 1In-law 1
Mar 19, 2022