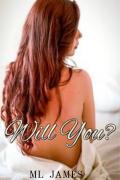 Will You?
(older woman - younger man erotic romance)
Product Description
Cara is a first-time divorcee settling down to a life of quiet independence, but a strange attraction to her friend's yummy son is threatening to make her lose her senses. She has no idea what to do. Should she protect her sanity or should she just let it go to hell?
19-year old Lance is your typical teenager - raging hormones and all. He is crazy enough to fall in love with a single mom twice his age. But this inexperienced young man has three things guiding him - his heart, brain and crotch. For Christ's sake, which should he follow?
Product Details

Publisher: Mybard
Publication Date: November 15, 2021
Language: English

This book contains adult content. Reader discretion is advised.


Customer Reviews