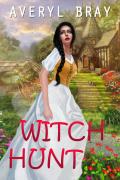 Product Description
When the governor's wife discovers her husband has slept with Waverly, the beautiful, enigmatic redhead who lives on the edge of town, she becomes enraged. Vowing to get revenge, she accuses Waverly of the unthinkable!
Waverly soon finds herself on the run and completely alone, until she is taken in by the young widower, Mason Stark. Mason resolves to do all he can to help but even as he falls for his new houseguest, he can only do so much to protect her from the wrath of the governor's wife.
Waverly can't hide forever and when the townspeople find her, they seek justice the only way they know how. Now it is up to Mason to vindicate his lover. Will Mason's efforts pay off? Will he get to spend the rest of his life with Waverly? Or will he be cast deeper in to mourning as another of his loves is torn from his reach.
Product Details

Publisher: Mybard
Publication Date: September 15, 2016
Language: English

This book contains adult content. Reader discretion is advised.


Customer Reviews