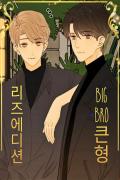 BIG BRO (Un-Cut)
Last Post:
November 3, 2022
Kim Dongyoung was the best big brother anyone could ask for. Caring, responsible, understandable, supportive and appreciative. His only motive was to keep his little brother happy till his last breath even if he had to sacrifice his anything and everything to his little brother, Kim Jungwoo.
Even the love of his life, Moon Taeil.
P
You need 1 point to view each paid chapter.
| Chapters | Date |
| --- | --- |
| Ch. 25The Sacrifice | Nov 3, 2022 |
| Ch. 24Marry… Him | Nov 3, 2022 |
| Ch. 23It Hurts But It Has To Be | Nov 3, 2022 |
| Ch. 22Killing With Kindness | Nov 3, 2022 |
| Ch. 21Forced Love | Nov 3, 2022 |
| Ch. 20Fool In Love | Nov 3, 2022 |
| Ch. 19Fall In Love | Nov 3, 2022 |
| Ch. 18As Expected | Nov 3, 2022 |
| Ch. 17Didn't Expect | Nov 3, 2022 |
| Ch. 16A Day At The Kim's | Nov 3, 2022 |
| Ch. 15Soothe In | Nov 3, 2022 |
| Ch. 14Unknown Urge | Nov 3, 2022 |
| Ch. 13Sweet Home, Sweet Him | Nov 3, 2022 |
| Ch. 12Bloomed & Blamed | Nov 3, 2022 |
| Ch. 11Blooming Night | Nov 3, 2022 |
| Ch. 10More Than Friends? | Nov 3, 2022 |
| Ch. 9Just A Friendly Date | Nov 3, 2022 |
| Ch. 8Deal Like Dove | Nov 3, 2022 |
| Ch. 7Love Or Lie? | Nov 3, 2022 |
| Ch. 6You Grew Lot, I Grew Less | Nov 3, 2022 |
| Ch. 5Separated & Fated | Nov 3, 2022 |
| Ch. 4Finding The Lost Childhood | Nov 1, 2022 |
| Ch. 3So Is My Best Friend | Nov 1, 2022 |
| Ch. 2My Brother Is Back | Nov 1, 2022 |
| Ch. 1PROLOGUE | Nov 1, 2022 |