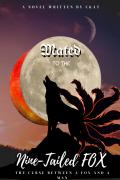 Mated to the Nine-Tailed Fox
Last Post:
November 20, 2023
Kagome cursed her own race, the nine-tailed foxes, to continue her anger toward the humans. Every nine-tailed foxes are bound to transform into a hideous beast every midnight. It will worsened once the full moon arrived. Kagome was sleeping inside Amaya's body, while waiting for the reincarnation of a human who betrayed her. She will be the only one who'll recognized him because of the bead she embedded.
However, the man inherited the fox bead is the mate of Amaya, whom Kagome was sleeping for a very long time. Amaya was forced to fall in love with Hiro because of a necklace. But until when?
"Please! Include me in your mission!" Hiro pleaded, hoping Amaya would let him join their quest. It was hard to get her approval, but it was so satisfying when she responded!
"Fine! I'll let you come along. But in one condition," she stopped for a while, gathering all the courage she needed to say, "... but starting today, you are mine."
P
You need 1 point to view each paid chapter.
Chapters
Date
Ch. 20Beast

p

Nov 20, 2023
Ch. 19Another Way

p

Nov 20, 2023
Ch. 18Protecting You

p

Nov 20, 2023
Ch. 17Disturbing Events

p

Nov 20, 2023
Ch. 16Jealousy

p

Nov 20, 2023
Ch. 15Sometimes Beast, Sometimes Not

p

Nov 20, 2023
Ch. 14One Night With You

p

Nov 20, 2023
Ch. 13She's Starting to Show

p

Nov 20, 2023
Ch. 12Vampire Strike

p

Nov 20, 2023
Ch. 11Attack in love

p

Nov 20, 2023
Ch. 10Unexpectedly In Love

p

Nov 20, 2023
Ch. 9Necklace

p

Nov 20, 2023
Ch. 8The Rescuer

p

Nov 20, 2023
Ch. 7Mating

p

Nov 20, 2023
Ch. 6Wedding Day

p

Nov 20, 2023
Ch. 5Unknown Energy
Nov 20, 2023
Ch. 4Mission
Nov 20, 2023
Ch. 3Full Moon
Nov 20, 2023
Ch. 2Cursed
Nov 20, 2023
Ch. 1Kagome's Rage
Nov 20, 2023