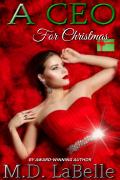 A CEO for Christmas
Last Post:
December 17, 2022
Hope Miller is the girl next door. Everyone likes her, but she doesn't have that spark that Joseph Anderson is looking for in a mate. When he thinks of her, he thinks of one word. Plain. Unfortunately, Hope has other ideas. When she walks in on Joseph with another girl, she runs out the door and never looks back.
With little money and no other family, she takes a bus to New York and walks right into Greg Harrison's arms. Surprised by this fortunate turn of events, he takes her in and shows her around the city by wining and dining her. The only question is, how long does it take her to find out that his intentions are not purely innocent?
P
You need 3 points to view each paid chapter.
Chapters
Date
Ch. 16After

p

Dec 17, 2022
Ch. 15My Plan

p

Dec 17, 2022
Ch. 14Knowing Is Part Of The Battle

p

Dec 17, 2022
Ch. 13You Won

p

Dec 17, 2022
Ch. 12Georgina, Oh What Will I Do?

p

Dec 17, 2022
Ch. 11Joseph, Go Home

p

Dec 17, 2022
Ch. 10So Soon?

p

Dec 17, 2022
Ch. 9Christmas Eve Morning

p

Dec 17, 2022
Ch. 8The Icy Stare

p

Dec 17, 2022
Ch. 7There Is Something In The Air

p

Dec 17, 2022
Ch. 6Georgina

p

Dec 17, 2022
Ch. 5Uncertainty

p

Dec 17, 2022
Ch. 4His House
Dec 11, 2022
Ch. 3Meeting The Family
Dec 9, 2022
Ch. 2Tall, Dark, And Handsome
Dec 9, 2022
Ch. 1Falling Into His Arms
Dec 9, 2022