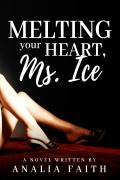 Melting your heart, Ms. Ice
Kristi Velasquez forced Benjamin, her ex-boyfriend, to marry her after breaking his heart
and having an affair with her stepbrother.
She had expected their marriage to be happy, but Benjamin had made up his mind. He's no
longer the man who can melt her icy heart. He transformed into a completely different person.
Will she stand up for their marriage? Will she give up and wave the white flag?
P
You need 5 points to view each paid chapter.
Chapters
Date
Ch. 28Chapter 28: Shaun kiss

p

Jul 16, 2022
Ch. 27Chapter 27: Shock

p

Jul 16, 2022
Ch. 26Chapter 26: Shaun

p

Jul 16, 2022
Ch. 25Chapter 25: PAST, pregnant

p

Jul 16, 2022
Ch. 24Chapter 24: PAST, first making love

p

Jul 3, 2022
Ch. 23Chapter 23: PAST, month

p

Jul 3, 2022
Ch. 22Chapter 22: PAST, punishment

p

Jul 3, 2022
Ch. 21Chapter 21: PAST, caught

p

Jul 3, 2022
Ch. 20Chapter 20: PAST, jealous

p

Jun 2, 2022
Ch. 19Chapter 19: PAST, drink

p

Jun 2, 2022
Ch. 18Chapter 18: PAST, i love you kristi

p

Jun 2, 2022
Ch. 17Chapter 17: mother

p

Jun 2, 2022
Ch. 16Chapter 16: ill

p

Jun 2, 2022
Ch. 15Chapter 15: PAST, car

p

Jun 2, 2022
Ch. 14Chapter 14: PAST, neck

p

Jun 2, 2022
Ch. 13Chapter 13: PAST, Spicy porridge

p

Jun 2, 2022
Ch. 12Chapter 12: call

p

Jun 2, 2022
Ch. 11Chapter 11: giggle

p

Jun 2, 2022
Ch. 10Chapter 10: Miss Ice

p

Jun 2, 2022
Ch. 9Chapter 9: love

p

Jun 2, 2022
Ch. 8Chapter 8: hickey

p

Jun 2, 2022
Ch. 7Chapter 7: dinner

p

Jun 2, 2022
Ch. 6Chapter 6: cold

p

Jun 2, 2022
Ch. 5Chapter 5: Wedding
Jun 2, 2022
Ch. 4Chapter 4: defeat
Jun 2, 2022
Ch. 3Chapter 3: Marry Me
Jun 2, 2022
Ch. 2Chapter 2: happy
Jun 2, 2022
Ch. 1Chapter 1: Kristi
Jun 2, 2022