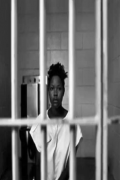 A Well void of a child's laughter.
Grace stared outside the window but couldn't see a thing, because of the opaque glass. A tired yawn left her mouth as she forced herself off the bed to go open the window.
The moon was still enjoying the blinks' from the stars, hence her refusal to go in. The hand of the clock is stuck between 2 Am and it yet to strike 5 am----her usual wake-up time.
What would make a woman awake at the early hours of the day were wives enjoy the touch from their husband as they cuddle under the blanket.
But, this was not the same with Grace, her feet are gradually making their way into old age, she seems neurotic, surrounded by cars, money, a big house,
Friends and a well-paying job, but yet grace is lonely.
What could make a woman so lonely even after acquiring all the good things in life and her marriage debased by friends?
The joy of motherhood!
________________________________________
Taking a closer look at the mirror, she could see black lines forming under her eyes, her hair was in a messy ponytail, she took a closer look at her breasts; they are still full of life no child has sucked out of it.
Grace sighed and left for the bathroom, it is better to go to work early than to receive insults from her husband.
*
*
*
*
It was not a good day for grace, the sun was not friendly, receiving orders and dropping files for her boss was a small thing. In a jiffy she took off her shoe, removed her wig, took ice water from the fridge, taking several gulps, she inhaled and exhaled and felt heaven. A knock from the door distracted her from a moment of peace.
It came even louder.....
"Hey, don't break the door. I am coming"
If Grace had known that opening the door would be her end, she wouldn't have dared.
" Are you Mrs. Rodgers?"
"Yes I am"
"You are under arrest for committing murder, a colleague stated against you, that you poison her child.
" Me?"
"How?"
"You are expected to remain quiet, ma'am"
The last Grace remembered was that she gave out from the biscuit she was eating to her colleague's child.
A mother in need of a child became a murderer out of love.
©Ge chis pen.
Thousand Echoes.
I am good at what I do.