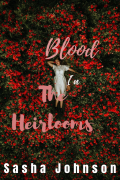 It's been three years since Addie Winchester's fiance left her after she was accused of stealing his family priceless heirlooms. She narrowly escapes jail, but has to skip town because the little town hates her.
The her grandfather gets sick and Addie jumps at the chance to take care of him. Addie fears the little town's still bitter and knows her ex-fiance Matthias still lives there.
To Addie's surprise the place has changed. For one they have a delicious new detective around, a new gossip hub and murderers looking for treasure and Matthias is a top notch FBI agent with someone new around his arm. Despite that Matthias won't leave her alone. Soon Addie's being watched by the people after her family legacy and likely killed her sister in law. Through it all she has manage a potential relationship with the new detective and jealous ex-fiance who might be her saving grace.
P
You need 1 point to view each paid chapter.
Chapters
Date
Ch. 24Chapter Twenty-Four

p

Jul 27, 2022
Ch. 23Chapter Twenty-Three

p

Jul 15, 2022
Ch. 22Chapter 22

p

Jul 14, 2022
Ch. 21Chapter Twenty-One

p

May 21, 2022
Ch. 20Chapter Twenty

p

May 20, 2022
Ch. 19Chapter Nineteen

p

May 20, 2022
Ch. 18Chapter Eighteen

p

May 18, 2022
Ch. 17Chapter Seventeen

p

Mar 20, 2022
Ch. 16Chapter Sixteen

p

Dec 30, 2021
Ch. 15Chapter Fifteen

p

Dec 30, 2021
Ch. 14Chapter Fourteen

p

Dec 30, 2021
Ch. 13Chapter Thirteen

p

Dec 30, 2021
Ch. 12Chapter Twelve

p

Dec 30, 2021
Ch. 11Chapter Eleven

p

Dec 30, 2021
Ch. 10Chapter Ten

p

Dec 30, 2021
Ch. 9Chapter Nine

p

Dec 30, 2021
Ch. 8Chapter Eight

p

Dec 30, 2021
Ch. 7Chapter Seven
May 21, 2022
Ch. 6Chapter Six
May 21, 2022
Ch. 5Chapter Five
May 21, 2022
Ch. 4Chapter Four
May 21, 2022
Ch. 3Chapter Three
May 21, 2022
Ch. 2Chapter Two
Dec 30, 2021
Ch. 1Chapter One
Dec 30, 2021