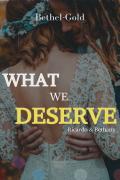 What We Deserve (Ricardo and Bethany)
Last Post:
January 27, 2023
After getting cheated on and dumped by her ex-boyfriend and sulking over her failed relationship for over a year, Bethany decided to get off her feet and go outside more and stumbled upon Ricardo Herman.
Ricardo lost his wife the day his daughter was brought into the world and has been a loving father to her but didn't see having a relationship as a priority not until he came across Bethany.
The two met, fell in love had memories together, leaving their past in the past but that isn't how it all ends.
Bethany's ex started taking a liking to her again and there is something about Ricardo's late wife he isn't aware of too
Now they have to stand up against the obstacles they will face, resist whatever old feelings that might develop again, and make sure the past really remains in the past
P
You need 1 point to view each paid chapter.
Chapters
Date
Ch. 25Chapter Twenty-Five

p

Jan 21, 2023
Ch. 24Chapter Twenty-Four

p

Jan 21, 2023
Ch. 23Chapter Twenty-Three

p

Jan 21, 2023
Ch. 22Chapter Twenty-Two

p

Jan 21, 2023
Ch. 21Chapter Twenty-One

p

Jan 21, 2023
Ch. 20Chapter Twenty

p

Jan 21, 2023
Ch. 19Chapter Nineteen

p

Jan 21, 2023
Ch. 18Chapter Eighteen

p

Jan 21, 2023
Ch. 17Chapter Seventeen

p

Jan 21, 2023
Ch. 16Chapter Sixteen

p

Jan 21, 2023
Ch. 15Chapter Fifteen

p

Jan 21, 2023
Ch. 14Chapter Fourteen

p

Jan 21, 2023
Ch. 13Chapter Thirteen

p

Jan 21, 2023
Ch. 12Chapter Twelve

p

Jan 21, 2023
Ch. 11Chapter Eleven

p

Jan 21, 2023
Ch. 10Chapter Ten

p

Jan 21, 2023
Ch. 9Chapter Nine

p

Jan 21, 2023
Ch. 8Chapter Eight

p

Jan 21, 2023
Ch. 7Chapter Seven

p

Jan 21, 2023
Ch. 6Chapter Six

p

Jan 21, 2023
Ch. 5Chapter Five
Jan 21, 2023
Ch. 4Chapter Four
Jan 21, 2023
Ch. 3Chapter Three
Jan 21, 2023
Ch. 2Chapter Two
Jan 21, 2023
Ch. 1Chapter One
Jan 21, 2023