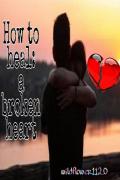 How to heal: A broken heart
Last Post:
January 9, 2022
Ashy took a gamble and tried something new.
She knew she wanted to love, but she wasn't sure she was ready to be wounded.
Despite the fact that she's inlove, she was aware that others would be harmed. Still she and Storm developed a relationship.
When the time came for Storm to make a choice, Ashy expected he'd go with her.
She was left hanging, alone, with no one to turn to and a deep sense of humiliation.
She's improving, but fate is just a game. When she was fine, he returned. What is the aim of this? To inflict more pain on her? How can the scars of the past be healed? If you've in pain for a long period, what should you do?
P
You need 10 points to view each paid chapter.
Chapters
Date
Ch. 4545: PRETENTIONS

p

Jan 9, 2022
Ch. 44IS THIS GOODBYE?

p

Jan 9, 2022
Ch. 43HIS LOVE FOR HER

p

Jan 9, 2022
Ch. 42LOVE IS BACK

p

Jan 9, 2022
Ch. 41FIGHT BACK

p

Jan 9, 2022
Ch. 40IN HIS OWN WAY

p

Jan 8, 2022
Ch. 39FRIEND'S SCHEME

p

Jan 8, 2022
Ch. 38ANGER

p

Jan 8, 2022
Ch. 37FORGIVE HIM

p

Jan 8, 2022
Ch. 36A FIGHT

p

Jan 8, 2022
Ch. 35TELL HIM THE TRUTH

p

Jan 7, 2022
Ch. 34GETTING RID OF HIM

p

Jan 7, 2022
Ch. 33BROTHER'S CONFESSION

p

Jan 7, 2022
Ch. 32PAUL IS BACK

p

Jan 7, 2022
Ch. 31CONVINCE HER

p

Jan 7, 2022
Ch. 30A VISIT FROM HIM

p

Jan 7, 2022
Ch. 29CAN'T DENY IT, MAKE LOVE

p

Jan 7, 2022
Ch. 28A DAY FOR YOU

p

Jan 7, 2022
Ch. 27DRINK AND DRUNK

p

Jan 7, 2022
Ch. 26FRIEND'S CARE

p

Jan 7, 2022
Ch. 25TEASE HER

p

Jan 6, 2022
Ch. 24CONVINCE HIM TO BREAK-UP WITH HER

p

Jan 6, 2022
Ch. 23UNEXPECTED LEAVE

p

Jan 6, 2022
Ch. 22BROTHER'S THING

p

Jan 6, 2022
Ch. 21HE'S BACK

p

Jan 6, 2022
Ch. 20WILL YOU BE MY WIFE??

p

Jan 6, 2022
Ch. 19FIRST DATE

p

Jan 6, 2022
Ch. 18TEASER

p

Jan 6, 2022
Ch. 17GETTING CLOSER

p

Jan 6, 2022
Ch. 16GOOD START

p

Jan 6, 2022
Ch. 15PERSONAL SECRETARY

p

Jan 5, 2022
Ch. 14MEETING THE NEW BOSS

p

Jan 5, 2022
Ch. 13JOB FOR HER

p

Jan 5, 2022
Ch. 12VISITING GIRLIE

p

Jan 5, 2022
Ch. 11PAINED

p

Jan 5, 2022
Ch. 10THE BREAK-UP

p

Jan 5, 2022
Ch. 9DESPERATELY INLOVE

p

Jan 5, 2022
Ch. 8FAMILY MATTERS

p

Jan 5, 2022
Ch. 7A TALK

p

Jan 5, 2022
Ch. 6UNEXPECTED VISIT

p

Jan 5, 2022
Ch. 5WHERE IS STORM?

p

Jan 4, 2022
Ch. 4INTIMATE RELATIONSHIP JUST BEGAN

p

Jan 4, 2022
Ch. 3CONFRONTATION BETWEEN ASHY AND STORM

p

Jan 4, 2022
Ch. 2GETTING TO KNOW EACH OTHER

p

Jan 4, 2022
Ch. 1INTRODUCTION

p

Jan 4, 2022