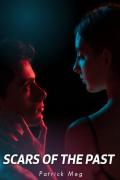 Scars of the past
Last Post:
November 14, 2022
NATHAN ADEWALE
A 27-year-old university undergraduate. He's from a poor background. His presence at the university is courtesy of a scholarship. All Nathan wanted was to graduate with flying colors, get a job and live a purposeful life.
Did things go as planned?
Not when he had agonizing scabs to recover from!
MIRABEL DAVIES
Chief Nwanchukwu's only daughter. She believes money can part the red sea. Mirabel is pompous, arrogant, and annoyingly confident.
Her philosophy of life was amended after she survived being killed by her ex-boyfriend - the leader of a notorious cult group.
The new chance to live again made her a changed person. But she wasn't there to say 'thank you to Nathan - the nerd who saved her life.
ISABELLA JOHNSON
She is Mirabel's close friend. They're often mistaken for sisters - that's how inseparable they are.
It wasn't a bed of roses when Isabella had to watch her friend travel for four years. For friendship's sake, they kept in touch until Mirabel came back into the country.
Nathan saved Mirabel, and he got injured and was subjected to a coma in the process. He never had a proper image of what Mirabel looked like.
His act of kindness and bravery made Mirabel fall in love with him, even in a coma. At that point, she had to leave the country, in a quest to protect her father's reputation.
Isabella on the other hand never knew Nathan was her friend's hero. The waves of life made Nathan and Isabella cross paths, and they fell in love with each other.
What will happen four years later, if Mirabel comes back and meets her hero, about to get married to Isabella?
Everything transcended into violence and betrayal when Mirabel and Isabella discovered that they're sisters, fighting over a man.
P
You need 1 point to view each paid chapter.