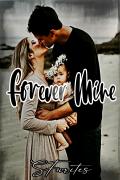 Forever Mine
Last Post:
December 15, 2021
Benjamin Lockwood's life takes a U turn when, his estranged sister and her husband dies in an accident and, he receives the custody of his young niece.
The baby being the heir to a fortune, becomes a target for her greedy paternal family.
Benjamin has only one option. Get married and provide the baby with a secure family.
Enter Isabella Carter. Cute bubbly and innocent.
In a desperate situation, Benjamin claims her as his fiance and chaos ensues.
Read ahead to know how their life unfolds.
P
You need 1 point to view each paid chapter.
Chapters
Date
Ch. 25Epilogue

p

Dec 15, 2021
Ch. 2424

p

Dec 15, 2021
Ch. 2323

p

Dec 15, 2021
Ch. 2222

p

Dec 15, 2021
Ch. 2121

p

Dec 14, 2021
Ch. 2020

p

Dec 14, 2021
Ch. 1919

p

Dec 14, 2021
Ch. 1818

p

Dec 13, 2021
Ch. 1717

p

Dec 13, 2021
Ch. 1616

p

Dec 13, 2021
Ch. 1515

p

Dec 11, 2021
Ch. 1414

p

Dec 11, 2021
Ch. 1313

p

Dec 11, 2021
Ch. 1212

p

Dec 10, 2021
Ch. 1111

p

Dec 10, 2021
Ch. 1010

p

Dec 9, 2021
Ch. 99

p

Dec 9, 2021
Ch. 88

p

Dec 9, 2021
Ch. 77

p

Dec 9, 2021
Ch. 66

p

Nov 29, 2021
Ch. 55
Dec 8, 2021
Ch. 44
Dec 8, 2021
Ch. 33
Dec 8, 2021
Ch. 22
Dec 8, 2021
Ch. 11
Dec 8, 2021