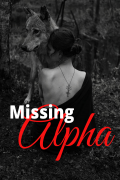 Viona Cervañez a half human and half witch who is destined to be killed by an Alpha. She was marked since the day she was born. Her blood is the sacrificial offering to the next Alpha and if he drink the omega's blood he'll became the most powerful creature. But her Mother Alisha took a step to save her daughter from dying. Against her will she took a scissor and cut the long wavy hair of her daughter. She had also to call her sister Sally, who live in a far away City of Quintin Remo. Her sister is a good witch, an oil maker. She made this smelly oil for her niece to hide her blood from being traced. And against Viona's will she had to go with her Auntie Sally, back to Quintin Remo. She had no choice but to move like a man. As she looked in the mirror, her whole figure turns into a manly gesture. For her safety and for her family she had to pretend. She also need to find the missing Alpha, make him fall inlove with her even she's a man in outside appearance.
Unfortunately they never learned that Jacob Montaiz is just around the corner in Quintin Remo. Jacob a run-away heir of San Valle, who took for granted his destiny to be the next Alpha. He wants freedom and a peaceful life. But no matter how he avoid it, his destiny taunts him, chases him. Royal knights even the dark knights hunts just to bring him home but unfortunately even the strongest dark Knights and royal knights can't bring him down because of his best friend Dreeno his Royal Guardian --who is deeply in love with the store owner, Sally. One day, Jacob had this weird dream. He dreamt of this lady over and over again. But he can't remember her face, the only thing he remember is the feeling of love for this lady. And her long wavy hair.
In one particular day, his coffee shop had this new employee, Landro a young man with a pretty face, ironically this young man took his breathe away. The same feeling he felt every time he dream of this lady. In some moments, he asked himself, if he is a gay or this guy Landro is just pretending to be a man. So he had to something to satisfy his thoughts about this young man. And Viona without her expectations she voluntarily surrendered everything to the Alpha, that she hate the most.
P
You need 1 point to view each paid chapter.