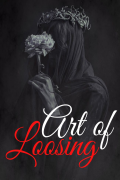 Art of Loosing
Last Post:
April 28, 2021
Lucy, a lonely princess in her own castle.
Losignia Garcia, she's unknown. 20 years ago, a girl named Lucy promised someone, "In another life, I'll be the first one to leave." Is she bound to fulfill it? Or her existence was just about the Art of Loosing?
P
You need 1 point to view each paid chapter.
Chapters
Date
Ch. 18Fate

p

Apr 28, 2021
Ch. 17Why are we here?

p

Apr 28, 2021
Ch. 16The Contract

p

Apr 28, 2021
Ch. 15Casa

p

Apr 28, 2021
Ch. 14Sunflower

p

Apr 28, 2021
Ch. 13Deal

p

Apr 28, 2021
Ch. 12Mother and Son

p

Apr 28, 2021
Ch. 11Wait a bit

p

Apr 28, 2021
Ch. 10Client

p

Apr 28, 2021
Ch. 9Withered Flower

p

Apr 28, 2021
Ch. 8Hotel

p

Apr 28, 2021
Ch. 7Daddy

p

Apr 28, 2021
Ch. 6Summer of my life

p

Apr 28, 2021
Ch. 5Someone special

p

Apr 28, 2021
Ch. 4New Life

p

Apr 28, 2021
Ch. 3Prince Charming

p

Apr 28, 2021
Ch. 2In another Life

p

Apr 28, 2021
Ch. 1Orphanage

p

Apr 28, 2021