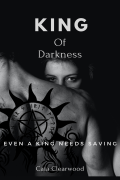 King Of Darkness
Last Post:
August 24, 2021
A vampire with memory loss.
A Fae with vampire issues.
What happens when fate merges their path?
————————
Willow, a Fae, an assassin, also known as 'whisperer' by a selected few, is ordered to spy on the vampire king by her Guild head. But before she can venture on her task, she stumbles on a vampire in need of dire help.
Lothaire, a three-thousand-year-old vampire, also known as the most powerful vampire by a selected few, has only known the life of a prisoner since he woke up in a cage some years ago. But before he could escape his reality he was tied and left to die.
What happens when these two meet? Can Willow help him before Lothaire's captors re-capture him to finish the job? Will Willow help him when she learns his identity? Who are those captors? Why do they want to kill Lothaire? Can they find out before it's too late?
P
You need 2 points to view each paid chapter.
Chapters
Date
Ch. 64Epilogue

p

Aug 24, 2021
Ch. 63Deal

p

Aug 24, 2021
Ch. 62The man behind

p

Aug 24, 2021
Ch. 61Lothaire's power

p

Aug 24, 2021
Ch. 60So, it has begun

p

Aug 24, 2021
Ch. 59Bargain

p

Aug 24, 2021
Ch. 58Lifemates

p

Aug 24, 2021
Ch. 57The place where it ends

p

Aug 24, 2021
Ch. 56This is it

p

Aug 24, 2021
Ch. 55Calm down

p

Aug 24, 2021
Ch. 54Listen to me

p

Aug 24, 2021
Ch. 53Breaking point?

p

Aug 24, 2021
Ch. 52Lies

p

Aug 24, 2021
Ch. 51Fight-2

p

Aug 24, 2021
Ch. 50Fight

p

Aug 24, 2021
Ch. 49I hate this

p

Aug 24, 2021
Ch. 48Not getting rid of me

p

Aug 24, 2021
Ch. 47Calling Reagan

p

Aug 24, 2021
Ch. 46A while

p

Aug 24, 2021
Ch. 45Lothaire's understanding

p

Aug 25, 2021
Ch. 44Past-2

p

Aug 25, 2021
Ch. 43Past

p

Aug 25, 2021
Ch. 42Time out

p

Aug 25, 2021
Ch. 41Morning after

p

Aug 25, 2021
Ch. 40Becoming one

p

Aug 25, 2021
Ch. 39Doubts

p

Aug 25, 2021
Ch. 38I hate vampires

p

Aug 25, 2021
Ch. 37Screw you

p

Aug 25, 2021
Ch. 36Henrietta

p

Aug 25, 2021
Ch. 35Bad puppy

p

Aug 25, 2021
Ch. 34Do you trust me?

p

Aug 25, 2021
Ch. 33Guilt

p

Aug 25, 2021
Ch. 32Caveman tendencies

p

Aug 25, 2021
Ch. 31Foreplay?

p

Aug 24, 2021
Ch. 30Egoistic chauvinist

p

Aug 24, 2021
Ch. 29Smartypants

p

Aug 24, 2021
Ch. 28Stay away from me

p

Aug 19, 2021
Ch. 27the vampire behind the events?

p

Aug 19, 2021
Ch. 26Unknown Vampire

p

Aug 19, 2021
Ch. 25Lothaire's decision

p

Aug 19, 2021
Ch. 24You better live

p

Aug 19, 2021
Ch. 23The mysterious vampire

p

Aug 19, 2021
Ch. 22there is more to it

p

Aug 19, 2021
Ch. 21Attack

p

Aug 19, 2021
Ch. 20The Big Day

p

Aug 19, 2021
Ch. 19brutal side

p

Aug 19, 2021
Ch. 18Sort of deal

p

Aug 19, 2021
Ch. 17Reagan is dancing with fire

p

Aug 19, 2021
Ch. 16Weapons-check

p

Aug 19, 2021
Ch. 15Reagan's 'friends'

p

Aug 19, 2021
Ch. 14Preparation

p

Aug 19, 2021
Ch. 13Secret behind the warehouses

p

Aug 19, 2021
Ch. 12Caught?

p

Aug 19, 2021
Ch. 11Warehouse

p

Aug 19, 2021
Ch. 10Willow's secret powers

p

Aug 19, 2021
Ch. 9Lothaire

p

Aug 19, 2021
Ch. 8Vampire Kingdom

p

Aug 19, 2021
Ch. 7Be prepared

p

Aug 16, 2021
Ch. 6Conspirer?

p

Aug 11, 2021
Ch. 5We are done here

p

Aug 11, 2021
Ch. 4Not gonna happen

p

Aug 11, 2021
Ch. 3Say what?

p

Aug 13, 2021
Ch. 2Unexpected summons
Aug 11, 2021
Ch. 1What a team
Aug 11, 2021