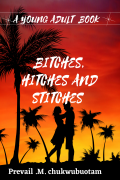 Bitches, Hitches And Stitches
Last Post:
October 16, 2021
A splendid blend of diverse personalities who are synonymous yet contrasting.
Faith Daniels is a bright but flawed student of Stardom Academy who has nothing but a little self esteem.
Her flaw is her challenge. But her greatest challenge is her roommates who claims to be nothing short of Perfection.
Then there is just another person. Just one person in the mystery card, who teaches Faith Daniels the art of falling irrevocably in LOVE.
| Chapters | Date |
| --- | --- |
| Ch. 25|25| | Oct 16, 2021 |
| Ch. 24|24| | Oct 16, 2021 |
| Ch. 23|23| | Oct 16, 2021 |
| Ch. 22|22| | Oct 16, 2021 |
| Ch. 21|21| | Oct 16, 2021 |
| Ch. 20|20| | Oct 16, 2021 |
| Ch. 19|19| | Oct 16, 2021 |
| Ch. 18|18| | Oct 16, 2021 |
| Ch. 17|17| | Oct 16, 2021 |
| Ch. 16|16| | Oct 16, 2021 |
| Ch. 15|15| | Oct 16, 2021 |
| Ch. 14|14| | Oct 16, 2021 |
| Ch. 13|13| | Oct 16, 2021 |
| Ch. 12|12| | Oct 16, 2021 |
| Ch. 11|11| | Oct 16, 2021 |
| Ch. 10|10| | Oct 16, 2021 |
| Ch. 9|9| | Oct 16, 2021 |
| Ch. 8|8| | Oct 16, 2021 |
| Ch. 7|7| | Oct 16, 2021 |
| Ch. 6|6| | Oct 16, 2021 |
| Ch. 5|5| | Oct 16, 2021 |
| Ch. 4|4| | Oct 16, 2021 |
| Ch. 3|3| | Oct 16, 2021 |
| Ch. 2|2| | Oct 16, 2021 |
| Ch. 1|1| | Oct 16, 2021 |