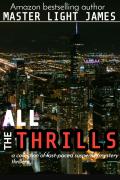 Thrillers, mysteries, suspense, satire... and everything in between.
> A family is on the run from danger, but with each step they take, more danger looms ahead. Not all will make it on this perilous journey.
> A single mom whose child has strange powers and is capable of things that make even his mother fear him. Where and to who will she turn for help and advice?
All these thrills and many more will take you on an endless rollercoaster ride that will leave you breathless.
P
You need 1 point to view each paid chapter.
Chapters
Date
Ch. 34Blurry

p

May 30, 2023
Ch. 33Fractured 2

p

May 30, 2023
Ch. 32Indebted

p

May 29, 2023
Ch. 31Tangled Web

p

May 27, 2023
Ch. 30Fractured
May 26, 2023
Ch. 29Bite Back 2

p

Nov 28, 2022
Ch. 28Bite Back 1

p

Nov 28, 2022
Ch. 27Together Strong 4

p

May 10, 2022
Ch. 26Together Strong 3

p

May 10, 2022
Ch. 25Together Strong 2

p

May 10, 2022
Ch. 24Together Strong

p

May 10, 2022
Ch. 23Once Lost 4

p

May 10, 2022
Ch. 22Once Lost 3

p

May 10, 2022
Ch. 21Once Lost 2

p

May 10, 2022
Ch. 20Once Lost 1

p

May 10, 2022
Ch. 19Misjudgement

p

May 10, 2022
Ch. 18Taming the Oppressor

p

May 10, 2022
Ch. 17In My Mind 4

p

May 6, 2022
Ch. 16In My Mind 3

p

May 6, 2022
Ch. 15In My Mind 2

p

May 6, 2022
Ch. 14In My Mind 1

p

May 6, 2022
Ch. 13Ghost Thief 7

p

May 6, 2022
Ch. 12Ghost Thief 6

p

May 6, 2022
Ch. 11Ghost Thief 5

p

May 6, 2022
Ch. 10Ghost Thief 4

p

May 6, 2022
Ch. 9Ghost Thief 3

p

May 6, 2022
Ch. 8Ghost Thief 2

p

May 6, 2022
Ch. 7Ghost Thief 1

p

May 6, 2022
Ch. 6Double Identity Disaster

p

Apr 14, 2022
Ch. 5Detour into Trouble

p

Apr 14, 2022
Ch. 4The Escape! 4

p

Apr 14, 2022
Ch. 3The Escape! 3

p

Apr 14, 2022
Ch. 2The Escape! 2

p

Apr 14, 2022
Ch. 1The Escape!

p

Apr 14, 2022