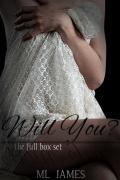 Will You? (the full box set)
Product Description
Cara is a first-time divorcee settling down to a life of quiet independence, but a strange attraction to her friend's yummy son is threatening to make her lose her senses.
19-year old Lance is your typical teenager - raging hormones and all. He is crazy enough to get attracted to a single mom twice his age. Call it love, or lust, but Lance's mother calls it forbidden.
Carol declares her son out of bounds to cougars, but her friend can't keep her hands off him. Eventually, it falls to Lance to decide whose side he would take. Will he choose his mother? Or his lover?
"You're a writer who knows how to hook readers." - Editor
Product Details

Publisher: Mybard
Publication Date: May 23, 2022
Language: English

This book contains adult content. Reader discretion is advised.


Customer Reviews