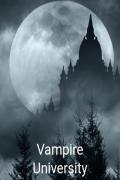 This is not an ordinary university where you can study and meet new friends. Hailey will want to fight for her friends and for their freedom.
Where vampires are scattered all over the place and all they want is bloodshed. Not everything will be easy and many events will take place.
The place where vampires, demons, ruthless monsters, and brutal events exist.
When you trust them, they will use that trust to kill you. Shut your mouth if you don't want to die early.
Be a devil to survive, or be an angel to die.
"Unleash the hidden evil within you if you still want to live."
Will there be a love affair between Hailey and Demon? Or will they just continue to be enemies?
Welcome to Vampire University!
P
You need 1 point to view each paid chapter.
Chapters
Date
Ch. 21Old Hermit

p

May 21, 2022
Ch. 20Offering

p

May 21, 2022
Ch. 19Forest of Darkness

p

May 21, 2022
Ch. 18Mission

p

May 21, 2022
Ch. 17First Love

p

May 21, 2022
Ch. 16Cough

p

May 21, 2022
Ch. 15Duty

p

May 19, 2022
Ch. 14Boss A

p

May 19, 2022
Ch. 13Threat

p

May 19, 2022
Ch. 12Mastermind

p

May 19, 2022
Ch. 11Friends

p

May 19, 2022
Ch. 10Fear

p

May 17, 2022
Ch. 9Bloody Jail

p

May 17, 2022
Ch. 8Position Accepted

p

May 17, 2022
Ch. 7Risk

p

May 17, 2022
Ch. 6Deadly Night

p

May 17, 2022
Ch. 5New Queen

p

May 14, 2022
Ch. 4Poison

p

May 14, 2022
Ch. 3Violate the rule

p

May 14, 2022
Ch. 2Death Anniversary

p

May 14, 2022
Ch. 1Welcome To Vampire University

p

May 14, 2022