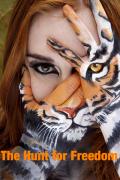 The Hunt For Freedom
Last Post:
August 24, 2022
Katalea was born a werecat. There wasn't a time when she could remember being just 'human'. Now, as she grows and powers develop she discovers that all freedom isn't free. There are those who would like to see her Pride extinguished. Will she be able to rise to the challenge and lead her people to freedom? Will she be able to accept the responsibilities of being the only royal alpha?
P
You need 1 point to view each paid chapter.
Chapters
Date
Ch. 97The Hunt for Knowledge

p

Aug 24, 2022
Ch. 96Dalya's Predicament

p

Aug 24, 2022
Ch. 95The Smell of Rotten Eggs

p

Aug 24, 2022
Ch. 94Back in the Dragon's Lair

p

Aug 24, 2022
Ch. 93A Cold Blast of Air

p

Aug 24, 2022
Ch. 92A Day to Mourn, A Day to Celebrate

p

Aug 24, 2022
Ch. 91Silent Good-Bye's

p

Aug 24, 2022
Ch. 90Oh no, Maggie!

p

Aug 24, 2022
Ch. 89I Can Feel Him Watching

p

Aug 24, 2022
Ch. 88She is the Storm

p

Aug 23, 2022
Ch. 87The Sky Grew Dark

p

Aug 23, 2022
Ch. 86They're Coming

p

Aug 23, 2022
Ch. 85Lust Inducing Hotness

p

Aug 22, 2022
Ch. 84Oh, By the Way, I have a Mate Now

p

Aug 22, 2022
Ch. 83Freedom Seeker

p

Aug 22, 2022
Ch. 82War is Coming

p

Aug 21, 2022
Ch. 81The Memorial

p

Mar 23, 2022
Ch. 80Daddy!

p

Mar 18, 2022
Ch. 79Going Home

p

Mar 18, 2022
Ch. 78We Are Your Family Now

p

Mar 18, 2022
Ch. 77Her Fate was Sealed

p

Mar 18, 2022
Ch. 76Northern Lights

p

Mar 18, 2022
Ch. 75Secret Tunnels

p

Mar 18, 2022
Ch. 74She Caught Me Watching

p

Mar 18, 2022
Ch. 73A Maddening Screech

p

Mar 2, 2022
Ch. 72Unnatural and Grotesque

p

Mar 2, 2022
Ch. 71Dalya!

p

Jan 24, 2022
Ch. 70Raging Dragons

p

Jan 24, 2022
Ch. 69Dragon Breath

p

Jan 24, 2022
Ch. 68On the Scent of a Werecat

p

Jan 24, 2022
Ch. 67I Know Where Dakari Is

p

Jan 24, 2022
Ch. 66The Aftermath

p

Jan 24, 2022
Ch. 65The Way Out

p

Jan 18, 2022
Ch. 64Banished

p

Jan 17, 2022
Ch. 63Dragons on the Island

p

Jan 17, 2022
Ch. 62Security Measures

p

Jan 17, 2022
Ch. 61Crystal Amulets

p

Jan 17, 2022
Ch. 60Watching Katalea

p

Jan 15, 2022
Ch. 59I Miss you, I Miss Us

p

Jan 15, 2022
Ch. 58Back to Essam

p

Jan 15, 2022
Ch. 57Hysterics

p

Jan 15, 2022
Ch. 56To Uncage a Werecat

p

Jan 15, 2022
Ch. 55Slit His Throat

p

Jan 13, 2022
Ch. 54Dragon Ride

p

Jan 13, 2022
Ch. 53Hunting

p

Jan 12, 2022
Ch. 52Weredragon Maid

p

Jan 10, 2022
Ch. 51Hiding

p

Jan 10, 2022
Ch. 50The Dragon's Lair

p

Jan 10, 2022
Ch. 49Someone is Watching

p

Jan 10, 2022
Ch. 48Worthy Opponent

p

Jan 9, 2022
Ch. 47Dragons!

p

Jan 9, 2022
Ch. 46Horny Toad

p

Jan 8, 2022
Ch. 45One on One Time With Abe

p

Jan 8, 2022
Ch. 44Extreme Weather

p

Jan 8, 2022
Ch. 43Rescue Mission

p

Jan 8, 2022
Ch. 42Uninvited

p

Jan 8, 2022
Ch. 41Fear

p

Jan 8, 2022
Ch. 40Rage

p

Jan 7, 2022
Ch. 39Another Mate Bond

p

Jan 7, 2022
Ch. 38Alone With Abe

p

Jan 7, 2022
Ch. 37Clues

p

Jan 7, 2022
Ch. 36Taken!

p

Jan 7, 2022
Ch. 35A Coronation Ball

p

Jan 7, 2022
Ch. 34A Royal Shopping Spree

p

Jan 7, 2022
Ch. 33A Home Fit for a Princess

p

Dec 17, 2021
Ch. 32Moving Day

p

Dec 17, 2021
Ch. 31Mate Bond?

p

Dec 17, 2021
Ch. 30Party!

p

Dec 17, 2021
Ch. 29A Fight with a Dragon

p

Dec 11, 2021
Ch. 28Dragons in the Woods

p

Dec 6, 2021
Ch. 27Frozen

p

Dec 5, 2021
Ch. 26Sparring with Abe

p

Dec 5, 2021
Ch. 25Paranormal Sciences

p

Dec 5, 2021
Ch. 24Trapped with Abe

p

Dec 5, 2021
Ch. 23Capture the Flag

p

Dec 5, 2021
Ch. 22Memorial for the Fallen

p

Dec 4, 2021
Ch. 21Aftermath of the Attack

p

Dec 3, 2021
Ch. 20Drone Attack

p

Dec 3, 2021
Ch. 19Werecat's Feast

p

Dec 3, 2021
Ch. 18Werecats Reunite

p

Dec 3, 2021
Ch. 17The First Attack

p

Nov 23, 2021
Ch. 16Survive until summer

p

Nov 19, 2021
Ch. 15Bullied

p

Nov 19, 2021
Ch. 14Six Years Later

p

Nov 18, 2021
Ch. 13Werecat feast

p

Nov 18, 2021
Ch. 12Werecat Mentors

p

Nov 18, 2021
Ch. 11Royal breakfast

p

Aug 30, 2022
Ch. 10Shifted

p

Aug 30, 2022
Ch. 9Explanations

p

Aug 30, 2022
Ch. 8Family

p

Aug 30, 2022
Ch. 7Welcome

p

Aug 30, 2022
Ch. 6Arrival
Jan 20, 2022
Ch. 5Trickery
Jan 20, 2022
Ch. 4Homeschool
Jan 20, 2022
Ch. 3Scared
Jan 20, 2022
Ch. 2Abilities
Jan 20, 2022
Ch. 1Questions
Jan 20, 2022