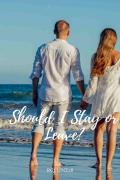 Should I Stay or Leave?
Last Post:
August 11, 2021
Kamiah Raven Cruz's relationship with boyfriend Acwell Jonas Peters takes a step forward when one day she found out that she is pregnant. But this did not happen without a catch because Acwell finally told her his secret and that he is already a father of another woman's daughter.
Will they decide to have a divorce? Or will their love conquers and fully heal the pain of the past?
P
You need 1 point to view each paid chapter.