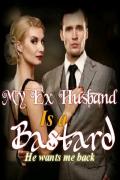 My Ex husband is a bastard (He wants me back)
Last Post:
November 16, 2022
Blurb
Duncan was able to eliminate Hazel from his home but not his heart after finding a picture of her with an unknown man on a bed together.
Without finding out the truth, he divorced her and also making her abort her baby she was happy to have after three years that she as been expecting a child.
Seven years later, Hazel is back to Italy with a seven years old boy for a business with his company and Duncan wants her back immediately he set his eyes on her.
He is eager to find out information about the father of the child and he is ready to tame her back to him.
Will Hazel forgive him despite how she loathe him after everything he as done to her?
Or will he be able to tame her back to him?
Will he be able to find out who the father of the boy is?
P
You need 2 points to view each paid chapter.
Chapters
Date
Ch. 15Chapter 15- The party

p

Nov 16, 2022
Ch. 14Chapter 14- The media

p

Nov 16, 2022
Ch. 13Chapter 13-The restaurant

p

Nov 16, 2022
Ch. 12Chapter 12- promise

p

Nov 16, 2022
Ch. 11Chapter 11-Rejected

p

Nov 16, 2022
Ch. 10Chapter 10- My needs

p

Nov 16, 2022
Ch. 9Chapter 9- Outsmarted

p

Nov 16, 2022
Ch. 8Chapter 8- reunion

p

Nov 16, 2022
Ch. 7Chapter 7-My other half

p

Nov 16, 2022
Ch. 6Chapter 6- little kid Karl
Nov 16, 2022
Ch. 5Chapter 5- Jasper Cullen
Nov 16, 2022
Ch. 4Chapter 4- I hate you
Nov 16, 2022
Ch. 3Chapter 3-Abortion
Nov 16, 2022
Ch. 2Chapter 2- Divorce
Nov 16, 2022
Ch. 1Chapter 1- You are pregnant
Nov 16, 2022