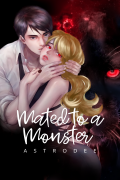 Mated to a Monster
Last Post:
January 19, 2023
The curse that doomed the family to an eternity of bloodthirst was cast long ago. For untold centuries, they were destined to transform into wild animals at night, becoming lethal black beasts driven by a raging fever and an insatiable thirst. Autumn Herrera was the last woman in her family line, and there was only one chance to save her sick mother and break the curse. She had to have a child with the son of the man who caused her family's unending suffering, that was Hunter Morrison—a man out for revenge for the death of his father. But how can Autumn persuade Hunter Morrison to mate with her?
Autumn also knew there was another of her kind out there hell-bent on destroying her plans. He'd do anything to win Autumn's love and fulfill his desperate yearning to start a new beasts generation. Can she still succeed in eliminating the curse if one of her kind is determined to prevent her from doing so?
P
You need 5 points to view each paid chapter.
Chapters
Date
Ch. 13Chapter 13

p

Jan 19, 2023
Ch. 12Chapter 12

p

Jan 17, 2023
Ch. 11Chapter 11

p

Jan 17, 2023
Ch. 10Chapter 10

p

Jan 6, 2023
Ch. 9Chapter 9

p

Jan 6, 2023
Ch. 8Chapter 8

p

Jan 6, 2023
Ch. 7Chapter 7

p

Jan 6, 2023
Ch. 6Chapter 6

p

Jan 6, 2023
Ch. 5Chapter 5

p

Jan 5, 2023
Ch. 4Chapter 4

p

Jan 5, 2023
Ch. 3Chapter 3

p

Jan 5, 2023
Ch. 2Chapter 2
Jan 5, 2023
Ch. 1Chapter 1
Jan 5, 2023