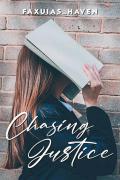 Reign Azalea Mendez, is a innocent and understanding college student. She already contented in her life. Slowly healing from her past.
She thought her life will be normal forever but it doesn't last long. In unknown reason, she doesn't know why someone after her. Her life begin to become mess.
She doesn't mind at first but things got worst. From death threat to physical assault. If she still become clueless, her life will be on jeopardy until the end.
She start finding an answer. She tried everything to know the reason. But in order to know the answer and reason, the truth will slowly reveal.
Her mom death was fake. When her life almost face death, her mom show up out of plan. Her rival become her mom sister. They are blood related.
Catalina betrayed the mastermind and accept the consequences. But the chaos didn't fade. She has been kidnap again. The mastermind give her a mind-blowing question about her life.
Her mom moving secretly by herself but fall in mastermind trap. Reign make a move but suddenly also fall in trap.
The mastermind got so overwhelmed. His planned success. Now, he can do whatever he want to do to them. Even he would kill them.
Out of the mastermind knowledge. He's the one who fall in the trap. The mastermind got trap. His been arrested and must face his consequences.
Everyone fix their own life and live again normally.
P
You need 2 points to view each paid chapter.