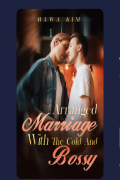 Arranged Marriage With The Cold And Bossy
Abused and constantly used by his mom, his mom arranges a marriage between his step brother Kageyama and him. Hinata knew it was for her own selfish desire but he was happy because he was in love with his step brother, but Hinata didn't know that Kageyama only agreed because he wanted to make make him suffer because he hated Hinata because he was birthed by a selfish woman. Hinata suffers humiliation and constantly abused by Kageyama. Kageyama constantly treats him like a sex tool, When he finally makes his mind to leave Kageyama, he finds out he's pregnant for him but because he thinks Kageyama would find it disgusting Hinata decides to hide his pregnancy from him and leave.
P
You need 3 points to view each paid chapter.
Chapters
Date
Ch. 18Eighteenth Chapter

p

Jun 8, 2022
Ch. 17Seventeenth Chapter

p

Jun 8, 2022
Ch. 16Sixteenth Chapter

p

Jun 8, 2022
Ch. 15Fifteenth Chapter

p

Jun 8, 2022
Ch. 14Fourteenth Chapter

p

Jun 8, 2022
Ch. 13Thirteenth Chapter

p

Jun 8, 2022
Ch. 12Twelfth Chapter

p

Jun 8, 2022
Ch. 11Eleventh Chapter

p

Jun 8, 2022
Ch. 10Tenth Chapter

p

Jun 8, 2022
Ch. 9Ninth Chapter

p

Jun 8, 2022
Ch. 8Eighth Chapter

p

Jun 8, 2022
Ch. 7Seventh Chapter

p

Jun 8, 2022
Ch. 6Sixth Chapter

p

Jun 8, 2022
Ch. 5Fith Chapter
Jun 8, 2022
Ch. 4Fourth Chapter
Jun 8, 2022
Ch. 3Third Chapter
Jun 7, 2022
Ch. 2Second Chapter
Jun 7, 2022
Ch. 1First Chapter
Jun 7, 2022