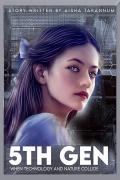 5TH GEN
Last Post:
February 22, 2022
The girl looked at those electric blue eyes which were holding sadness as she said in a sad tone "I have to...I have to do this "Ace...I-I'm sorry, forgive me Ace.." As soon as she finished her sentence her tears started falling nonstop.
"It's alright...it's for the best, I don't have any regret I lived my so many days with you that made me happy and it's enough for me, so don't cry and dismantle me" Ace said in a soft tone as the girl sobbed more and more before start to dismantle him while mumbling "I'm sorry".
P
You need 1 point to view each paid chapter.
Chapters
Date
Ch. 21Chapter Twenty One

p

Feb 23, 2022
Ch. 20Chapter Twenty

p

Feb 23, 2022
Ch. 19Chapter Nineteen

p

Feb 23, 2022
Ch. 18Chapter Eighteen

p

Feb 23, 2022
Ch. 17Chapter Seventeen

p

Feb 23, 2022
Ch. 16Chapter Sixteen

p

Feb 23, 2022
Ch. 15Chapter Fifteen

p

Feb 22, 2022
Ch. 14Chapter Fourteen

p

Feb 22, 2022
Ch. 13Chapter Thirteen

p

Feb 23, 2022
Ch. 12Chapter Twelve

p

Feb 23, 2022
Ch. 11Chapter Eleven

p

Feb 23, 2022
Ch. 10Chapter Ten

p

Feb 23, 2022
Ch. 9Chapter Nine

p

Feb 23, 2022
Ch. 8Chapter Eight

p

Feb 23, 2022
Ch. 7Chapter Seven

p

Feb 23, 2022
Ch. 6Chapter Six

p

Feb 23, 2022
Ch. 5Chapter Five

p

Feb 23, 2022
Ch. 4Chapter Four

p

Feb 23, 2022
Ch. 3Chapter Three
Feb 20, 2022
Ch. 2Chapter Two
Feb 12, 2022
Ch. 1Chapter One
Feb 12, 2022