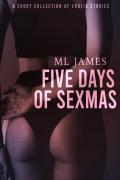 Product Description
Searching for hot and steamy reads? Then your search is over! Five days of Sexmas is guaranteed to take you on an erotic rollercoaster ride.
> A young plus-size woman goes on a blind date with an older man and gets some mindblowing sex and more!
> Jess has a super hot boyfriend and she must put him to good use, but can she handle what he has to give?
> Celine is a proud nymphomaniac with two boyfriends, but she needs more than just two strong hard men!
And many more sweet steamy tales!
Product Details

Publisher: Mybard
Publication Date: May 22, 2022
Language: English

This book contains adult content. Reader discretion is advised.


Customer Reviews