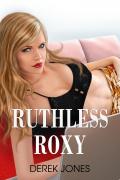 Product Description
Roxy is a mixed raced unapologetic gold digger. She cams online to work her way through university, but suddenly decides she wants a new flat in central London. Despite being a stunning hit online the rent is too expensive. Upon finding Trev, whose father is the CEO of a world leading bank, she falls in love with Trev's wallet rather than the man. Roxy is used to men dying to sleep with her, such as her perverted Professor, but what she isn't used to, is men dying on top of her. Still, dead men have their advantages, especially when they are loaded.
Product Details

Publisher: Mybard
Publication Date: September 30, 2016
Language: English

This book contains adult content. Reader discretion is advised.


Customer Reviews