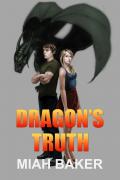 Product Description
Two best friends and, possibly, something more.
A clock ticking down to disaster.
An ancient, buried secret.
Maureen McDougal seems to have everything. She's smart, popular, and an amazing athlete. Everyone wants to be her, but they wouldn't if they knew the truth. Maureen's the latest in a long line of dragon hunters. Sworn to take up her family mantle and avenge her father's death, she's counting down the days until she can pass her 18th birthday trial and start hunting. That is until her best friend Alex starts undergoing some bizarre changes.
Realizing that her adopted friend-slash-crush is actually a dragon on the verge of his first shift, Maureen faces huge upheaval in her world. She has to choose between familial duty and the love of the boy she knows is still beneath the dragon's surface. Despite everything, she goes on the run with Alex, and both of them end up learning the Dragon's Truth…
Product Details

Publisher: Mybard
Publication Date: August 12, 2015
Language: English


Customer Reviews