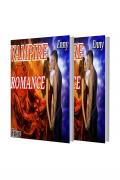 Vampire's romance
Last Post:
November 19, 2022
Three words to describe Crystal Santiago. " DROP DEAD GORGEOUS". Crystal lives two lives. One as a stripper and the other as a waitress.
Crystal was also known as Jae, the most sexist stripper. Her body is as hot as hell. She has a beautiful figure with glossy skin . She looked like a fairy , long black and shiny hair. Her seductive red lips look so blossom soft , making it hard for any guy to resist her. Her cute blue eyes balls are so enchanting and could trap any guy . That is the life of jae, the stripper
But as crystal, she was a simple, plain and loving girl . No one would ever believe a girl like Crystal to be a stripper.
Her life was going just fine till they came into the picture..
P
You need 5 points to view each paid chapter.
Chapters
Date
Ch. 16Vb

p

Nov 18, 2022
Ch. 15E

p

Nov 18, 2022
Ch. 14Bad woman

p

Nov 18, 2022
Ch. 13Not good

p

Nov 18, 2022
Ch. 12Love

p

Nov 18, 2022
Ch. 11Love

p

Nov 18, 2022
Ch. 10Let's talk

p

Nov 18, 2022
Ch. 9Want nothing

p

Nov 18, 2022
Ch. 8Bad friend

p

Nov 18, 2022
Ch. 7Ex-wife

p

Nov 18, 2022
Ch. 6Divorced

p

Nov 18, 2022
Ch. 5Mother in law

p

Nov 18, 2022
Ch. 4Her face
Nov 18, 2022
Ch. 3Liam
Nov 18, 2022
Ch. 2Who is she
Nov 18, 2022
Ch. 1Your end
Nov 18, 2022