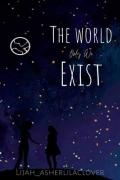 The World Only We Exist
Last Post:
November 2, 2021
Anya Moore is a pop sensation with lots of people who look up to her, though her passion is something else. Sadie Ozoa wants to chase her dreams and doesn't want to take no for an answer, but it feels like she doesn't have a choice. But unexpected decisions they made had created unfaithful circumstances that have brought two different individuals together. Next unthinkable move: run as far away from the situation that could have led to their wishes.
They don't know how they ended up walking together and they don't know why. But all they want to do is to escape from the environment they were surrounded in. Anya and Sadie thought they would be distant but with every step they took, they started to know so much about each other and what they have one thing in common: they hated how the world has become. They then thought what if they rebuild Earth where it is all ruled by them--and only both of them--and make it a reality?
As they go on the journey to create their own world, Anya sees that Sadie is more than an outcast and Sadie sees that Anya is more than just a star--they are each other's world.
But with the world that is against their odds, will they be able to show their truth?
In this debut comes a coming-of-age story about realizing that in order to survive the world, you must choose whether to follow the rules or break them for the sake of doing something right.
P
You need 10 points to view each paid chapter.
Chapters
Date
Ch. 16Chapter 16

p

Nov 2, 2021
Ch. 15Chapter 15

p

Nov 2, 2021
Ch. 14Chapter 14

p

Oct 7, 2021
Ch. 13Chaper 13

p

Oct 7, 2021
Ch. 12Chapter 12

p

Sep 8, 2021
Ch. 11Chapter 11

p

Sep 5, 2021
Ch. 10Chapter 10

p

Sep 5, 2021
Ch. 9Chapter 9

p

Sep 5, 2021
Ch. 8Chapter 8

p

Sep 5, 2021
Ch. 7Chapter 7

p

Sep 5, 2021
Ch. 6Chapter 6
Sep 5, 2021
Ch. 5Chapter 5
Sep 5, 2021
Ch. 4Chapter 4
Sep 5, 2021
Ch. 3Chapter 3
Sep 5, 2021
Ch. 2Chapter 2
Sep 5, 2021
Ch. 1Chapter 1
Sep 5, 2021