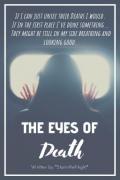 -What will you do if someone that is close to you is going to die?
-What can you do if you know it's your time and you need to leave the world?
-What will you do if you already lost your willingness to live?
-And what would your decision be if someone you know committed a serious sin?
Four Questions.
And as you read each chapter in this story you will gradually come to know the answers to those questions.
AND let me just remind you that. . .
This story is all about
Life & Death
Life and it's Questions
Death and it's terrible effect on us.
You? Are you ready to know how will this story ends?
P
You need 1 point to view each paid chapter.