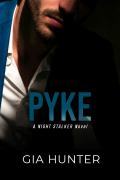 Pyke
Last Post:
October 9, 2020
Night Stalker Series 1:
PYKE HUGHES is in every woman's fantasy. A single, attractive, club owner, and knows his way in bed. But he's a type of guy who will leave without looking back after an unforgettable night of your life. Until a certain brunette, Camila Mendez shows him that he doesn't always get what he wants in life easily. She turns him down, challenges him, and bruises his healthy ego.
He can't accept his defeat until it turns into a game, but it's too late to back out when he finds out she's off-limits and somehow she has a connection to his life. The brunette is not only who he thought she is, in fact, but she also has secrets on her own.
His perfect life turns upside down, his deepest dark secret is about to be revealed, his past is haunting him back, but that doesn't stop him from pursuing her until he realizes what he does is not anymore a part of the game.
P
You need 1 point to view each paid chapter.