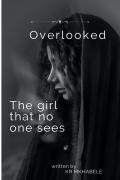 Overlooked..the girl that no one sees
Last Post:
December 22, 2021
A young girl named Lisa was born in a world where one needed talent to be recognized and acknowledged. unfortunately although she was beautiful and kind hearted, she had no talent and was always overlooked. No one paid attention to her and used to also look down on her, until she surprised everyone and met a prince who fall in love with her and chose her amongst the million talented girls who were used to being noticed and praised in the village who he had to chose a wife from. Lisa surprised everyone, proving to them that we are all unique and special in our own ways.
P
You need 1 point to view each paid chapter.