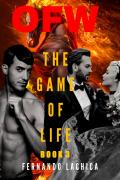 OFW: The Game Of Life Book 3
Last Post:
January 9, 2023
A weak-manipulative-smart young man ... A first true love ... A beautiful rich woman is obsessed with love ... A kind loving wife ... and Friends ... Chasing their dreams abroad as OFWs. .. All combined with their destinations to love because of ambition, lies, lust, hatred, revenge, and struggles for life in a distant place.
Bored Billionaire Insatiable Desires is the story of a young man - Marco Fernando - from a small island in Negros Occidental, Philippines, who explores his life in Bacolod City and finds his true love for Ayah Isabel Gonzales. While pursuing his dreams, he befriended Edward Ramirez. He used his friends to discover the hard way of working while studying.
While working on his student life, he also used the rich woman Danielle Gustilo and fell in love with her thoroughly. Governor Ben Gustilo, Danielle's father, offered a large amount of money for his daughter's marriage. But, Marco Fernando chose Ayah Isabel because of a bad incident that happened and decided to run to Manila with Ayah Isabel. He did not think that life in Manila was a narrow road of heartache, lies, hatred, and revenge.
Raising his growing family in Manila, he found his true self working in a remote place called Dubai as an OFW. However, poverty was the biggest problem as he used his charm to reach his ambition again with Danielle without her wife's knowledge in the Philippines.
The more lies and heartache he discovered his obsession with money grew stronger. Marco played his game well to reach his dreams. Used his charms to build corporations and became a Billionaire. He was looking forward to his family while building an empire abroad, he was swallowed by drugs to reduce the hardship of becoming a Billionaire and a Spy.
P
You need 1 point to view each paid chapter.
Chapters
Date
Ch. 31The Feeling Left Behind

p

Jan 9, 2023
Ch. 30Father Figure

p

Jan 9, 2023
Ch. 29The Test

p

Jan 9, 2023
Ch. 28Emily Reyes

p

Jan 9, 2023
Ch. 27Unification

p

Jul 2, 2022
Ch. 26The Feeling Of Excitement

p

Jun 10, 2022
Ch. 25Marco Jr's Mother - Love Story

p

Jun 10, 2022
Ch. 24Marco Jr.'s Mother - Danielle Gustilo Fernando

p

Jun 10, 2022
Ch. 23Looking From The Past

p

Jun 10, 2022
Ch. 22An Invitation

p

Jun 10, 2022
Ch. 21Broken Dreams

p

Jun 10, 2022
Ch. 20It's Me Hershey

p

Jun 10, 2022
Ch. 19Loving Each Other

p

Jun 10, 2022
Ch. 18Living The Way They Wanted

p

Jun 10, 2022
Ch. 17Mutual Feelings

p

Jun 9, 2022
Ch. 16Undecided

p

Jun 9, 2022
Ch. 15Sister Jealousy Over Marco Jr.

p

Jun 6, 2022
Ch. 14I Am Still In Love With Him

p

Jun 6, 2022
Ch. 13The Love Deepened

p

Jun 6, 2022
Ch. 12Reliving The Past

p

Jun 6, 2022
Ch. 11The First Kiss...

p

Jun 5, 2022
Ch. 10Jealous For Her Sister Vilma

p

Jun 5, 2022
Ch. 9The Love Blooms

p

Jun 5, 2022
Ch. 8An Opportunity To Bond

p

Jun 5, 2022
Ch. 7Marco's Past Experiences

p

Jun 5, 2022
Ch. 6Her Preference, Marco Jr.

p

Jun 5, 2022
Ch. 5Knowing Each Other

p

Jun 5, 2022
Ch. 4Jealous

p

Jun 5, 2022
Ch. 3Rekindle?

p

Jun 5, 2022
Ch. 2Hershey Asuncion

p

May 10, 2022
Ch. 1The Billionaire's Son
May 10, 2022