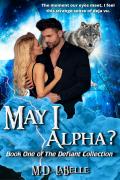 May I Alpha?
Last Post:
October 2, 2022
Alexander defiant is the alpha of the silver shadow fangs pack.  He is strong, and handsome, but most importantly he dominates anyone who stands in his way of what he wants.  Especially, when he meets the most beautiful woman he has ever seen.
Anastasia Smith on the other hand has completely different ideas when she meets the infuriating Mr. Defiant.  She, of course is the main character. Could a beautiful woman possibly make such a powerful domineering man fall to his knees?  Or will the tables turn on Anastasia?  Read May I Alpha, the first book in The Defiant Collection to find out.
P
You need 2 points to view each paid chapter.
Chapters
Date
Ch. 25What Did He Just Say?

p

Oct 2, 2022
Ch. 24Promises Are Meant To Be Broken

p

Oct 2, 2022
Ch. 23The Alpha Is Dead

p

Oct 2, 2022
Ch. 22What A Mess!

p

Oct 2, 2022
Ch. 21Kelly

p

Oct 2, 2022
Ch. 20What To Do With Kelly?

p

Oct 2, 2022
Ch. 19The Wake-Up Call

p

Oct 2, 2022
Ch. 18The Time Has Come

p

Oct 2, 2022
Ch. 17Knowing Is Part Of The Problem

p

Oct 2, 2022
Ch. 16It Doesn't Really Matter

p

Oct 2, 2022
Ch. 15Destiny

p

Oct 2, 2022
Ch. 14The Plan

p

Oct 2, 2022
Ch. 13The Decision Part 2

p

Oct 2, 2022
Ch. 12The Decision

p

Oct 2, 2022
Ch. 11The Birthday Party

p

Oct 2, 2022
Ch. 10Before The Birthday Party

p

Oct 2, 2022
Ch. 9Now What?

p

Oct 2, 2022
Ch. 8The Luna

p

Oct 2, 2022
Ch. 7Life Is Such A Bitch Sometimes

p

Sep 14, 2022
Ch. 6My Birthday

p

Sep 14, 2022
Ch. 5The Problem

p

Sep 14, 2022
Ch. 4Home
Oct 2, 2022
Ch. 3Hell No
Oct 2, 2022
Ch. 2What Is His Problem?
Oct 2, 2022
Ch. 1Meeting Mr. Defiant
Oct 2, 2022