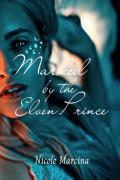 Marked By the Elven Prince
Last Post:
August 31, 2022
Iya was but a mere mortal. Shunned by her own mother for not being the daughter she was expected to be. Seen as odd, she was neglected and forgotten by her own world.
No one sees her. No one cares for her. Except for one.
The Elven Prince.
Prince Aien.
Both met in the world of mortals, hidden in the plains outside of town where they had a love like no other. However, their union was a blasphemy in the eyes of the Elves and Iya was once again viled and hated on.
Banished with Darfin, Aien's former servant, Iya was banished to the Mountain of Tall Trees. Iya and Aien were expected to forget each other and lose connection with one another. Forever.
But what if a seed was planted? A seed that will forever connect Iya and Aien? A seed that will turn their lives upside down?
Follow the story of Aien and Iya as they go through a journey of love, heartbreak, lies, scheming and forgiveness.
P
You need 1 point to view each paid chapter.