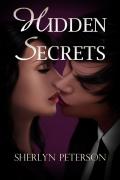 Hidden Secrets
Last Post:
January 13, 2021
Sabastian Jones and Olivia Miles are new found lovers but their short relationship is shrouded in darkness. Sabastian is hiding secrets from Olivia, secrets that could get her killed. Unable to let her go, he chooses to risk both of their lives by running from his past. He disappears with Olivia under the pretense of a short vacation, but what Olivia doesn't know is that they are in a dangerous game of cat and mouse with one of the most vicious, sadistic people on the planet.
Believing they are safe for the time being, Sabastian lets his guard down putting them both in harm's way once again. Sabastian must learn to trust someone he barely knows to save them both. But will he be too late?
P
You need 1 point to view each paid chapter.
Chapters
Date
Ch. 1515

p

Nov 29, 2021
Ch. 1414

p

Jan 6, 2021
Ch. 1313

p

Dec 30, 2020
Ch. 1212

p

Dec 23, 2020
Ch. 1111

p

Dec 16, 2020
Ch. 1010

p

Dec 9, 2020
Ch. 99

p

Dec 2, 2020
Ch. 88

p

Nov 25, 2020
Ch. 77

p

Nov 18, 2020
Ch. 66

p

Nov 11, 2020
Ch. 55

p

Nov 4, 2020
Ch. 44

p

Oct 28, 2020
Ch. 33

p

Mar 24, 2022
Ch. 22
Oct 14, 2020
Ch. 11
Oct 7, 2020