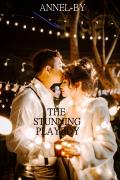 She grew up without her parents to care for her. Through thick and thin, her only aunt was by her side. As a result, she is frequently misunderstood. She was fearless and outspoken. She would rather have fun than take life seriously. But her life was changed when she crossed paths with an elderly billionaire.
Worse, because they were both drunk and lost, they had a one-night stand. When the man suddenly pursued her, her old habit vanished. So she had no choice but to hide in order to avoid being discovered by the man. But, as fate would have it, her friend turned out to be the daughter of the man who was looking for her.
He is 50 years old and has three children. His wife abandoned him for reasons he couldn't fathom. He wishes to remarry but is unable to find the right woman for him. Because the vast majority of the women he was with were preoccupied with his wealth and money. They each have their own perspective on life and how to take a stand. Will they ever meet up? Or what happened to them that they will only remember?
P
You need 3 points to view each paid chapter.