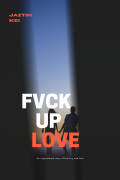 Bars, the taste of the alcohol, the smell of the cigarrete, and different guys---Emery Austin's life is revolving around these. She was living independently until one day, her vices and bad habits wanted to pay her off. Her fate led her into something else she did not expect. She got pregnant. And she was hiding the child she was bearing from its true father.
But there is someone who came into her life---Cliff.
Cliff stayed by her side to take care of her.
She does not have any romantic feelings towards Cliff or any other, but as time passed by, she was not able to guard herself but fell in love with him. And upon realizing it, the chance given came to an end.
Regrets, heartache and being drawn again to something miserable. Would Emery still be clinging to her messed-up love?
P
You need 1 point to view each paid chapter.
Chapters
Date
Ch. 27Chapter 25

p

Jun 7, 2022
Ch. 26Chapter 24

p

Jun 7, 2022
Ch. 25Chapter 23

p

Jun 7, 2022
Ch. 24Chapter 22

p

Jun 7, 2022
Ch. 23Chapter 21

p

Jun 7, 2022
Ch. 22Chapter 20

p

Jun 7, 2022
Ch. 21Chapter 19

p

Jun 7, 2022
Ch. 20Chapter 18
Jun 7, 2022
Ch. 19Chapter 18

p

Jun 7, 2022
Ch. 18Chapter 17

p

Jun 7, 2022
Ch. 17Chapter 16

p

Jun 7, 2022
Ch. 16Chapter 15

p

Jun 7, 2022
Ch. 15Chapter 14

p

Jun 7, 2022
Ch. 14Chapter 13

p

Jun 7, 2022
Ch. 13Chapter 12

p

Jun 7, 2022
Ch. 12Chapter 11

p

Jun 7, 2022
Ch. 11Chapter 10

p

Jun 7, 2022
Ch. 10Chapter 9

p

Jun 7, 2022
Ch. 9Chapter 8

p

Jun 7, 2022
Ch. 8Chapter 7

p

Jun 7, 2022
Ch. 7Chapter 6

p

Jun 7, 2022
Ch. 6Chapter 5
Jun 7, 2022
Ch. 5Chapter 4
Jun 7, 2022
Ch. 4Chapter 3
Jun 7, 2022
Ch. 3Chapter 3

p

Jun 7, 2022
Ch. 2Chapter 2
Jun 7, 2022
Ch. 1Chapter 1
Jun 7, 2022