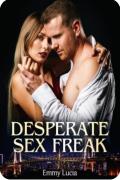 Desperate sex freak
Last Post:
November 22, 2022
In a toxic marriage, Lora tries to endure all of the pain and agony she suffers from Bill, her husband, as he keeps harassing her sexually, day after day.
Bill is an arrogant jerk who never considers anyone's feelings before hurting them. He was cruel and quick to anger that anytime anyone gets on his nerves, he descends on his wife Lora, and rapes her. Most of the time, her housekeeper Isha consoles her and tells her everything would turn out for the better someday. A few days after Lora recovers from a fatal sickness, she resumes work only to meet changes at the supermarket.
Gradually Lora falls in love with Austin. Bill soon discovers that Austin has taken his wife, and he promises to make life a living hell for him until Blair comes into the picture.
Will Bill be able to make Lora fall in love with him again? Who is Blair? Who will Lora choose, Bill or Austin? Is it best to remain in a toxic relationship/marriage or just sign a divorce and leave? find out in this book that teaches a whole lot of lessons.
| Chapters | Date |
| --- | --- |
| Ch. 21Flashback | Nov 22, 2022 |
| Ch. 20Betrayal | Nov 22, 2022 |
| Ch. 19Secret reviewed | Nov 22, 2022 |
| Ch. 18All these were planned? | Nov 22, 2022 |
| Ch. 17The anniversary(ii) | Nov 22, 2022 |
| Ch. 16The anniversary | Nov 22, 2022 |
| Ch. 15Naomi's changes | Nov 22, 2022 |
| Ch. 14New feelings | Nov 22, 2022 |
| Ch. 13Jealousy arising(ii) | Nov 22, 2022 |
| Ch. 12Jealousy arising | Nov 22, 2022 |
| Ch. 11First date | Nov 22, 2022 |
| Ch. 10Finally can have the date | Nov 22, 2022 |
| Ch. 9Hurt again | Nov 22, 2022 |
| Ch. 8Hurt again | Nov 21, 2022 |
| Ch. 7New friends (ii) | Nov 21, 2022 |
| Ch. 6New friends | Nov 21, 2022 |
| Ch. 5She's Lora! | Nov 18, 2022 |
| Ch. 4She's Lora! | Nov 18, 2022 |
| Ch. 3She's pained | Nov 18, 2022 |
| Ch. 2His wrath | Nov 18, 2022 |
| Ch. 1Her hell life | Nov 17, 2022 |