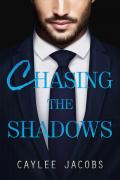 Chasing the Shadows
Last Post:
October 3, 2021
When Nathan McLain sees his brother proposing the woman of his dreams, Leslie, he is furious and heartbroken. Determined to make Leslie realize that she has made the wrong decision, Nathan drafts a plan and to execute, he needs a partner.
Kate Simons is in love with Brandon McLain since the first day she stepped into McLain Enterprise. Her fantasies break when he gets engaged to another woman. She is trying to get over him when her boss, Nathan offers her a proposal that would bring Brandon to her. Curious to give it a try, Kate agrees.
Set to get the people they want, Nathan and Kate find themselves irresistibly attracted to each other. What it takes to make them realize their feelings for each other, is when they get what they were running after.
P
You need 1 point to view each paid chapter.
Chapters
Date
Ch. 1414

p

Oct 3, 2021
Ch. 1313

p

Oct 3, 2021
Ch. 1212

p

Sep 14, 2021
Ch. 1111

p

Sep 7, 2021
Ch. 1010

p

Aug 31, 2021
Ch. 99

p

Aug 24, 2021
Ch. 88

p

Aug 17, 2021
Ch. 77

p

Aug 10, 2021
Ch. 66

p

Aug 3, 2021
Ch. 55

p

Jul 27, 2021
Ch. 44

p

Jul 20, 2021
Ch. 33

p

Jul 13, 2021
Ch. 22
Jul 6, 2021
Ch. 11
Jun 29, 2021