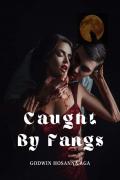 Caught by fangs
Last Post:
November 29, 2022
Maris, a counselor with the ability to enchant anyone with her voice distruped a ritual headed by Azazel and escaped with the entity needed for the ritual to be completed.
With the help of Logan Wolfe, the Alpha of the Oberon Wolves pack who also happened to be her mate, she was able to escape.
Maris began to discover secrets about herself and became a great risk to five clans that wanted her dead. Her mate, Logan vowed to protect her but how would he when Maris is so stubborn and determined?
P
You need 2 points to view each paid chapter.
Chapters
Date
Ch. 25Do I make you nervous?

p

Nov 29, 2022
Ch. 24Flash backs and wet kisses.

p

Nov 29, 2022
Ch. 23New mistresses.

p

Nov 29, 2022
Ch. 22Combats and screams

p

Nov 29, 2022
Ch. 21Tristan

p

Nov 29, 2022
Ch. 20Shocking discovery

p

Nov 29, 2022
Ch. 19Tristan and an angry queen

p

Nov 27, 2022
Ch. 18Betrayer

p

Nov 27, 2022
Ch. 17The perfect consort

p

Nov 27, 2022
Ch. 16Savior to predator

p

Nov 26, 2022
Ch. 15Kidnapped

p

Nov 26, 2022
Ch. 14Bad blood

p

Nov 26, 2022
Ch. 13Dirty desires

p

Nov 26, 2022
Ch. 12Painful memories

p

Nov 26, 2022
Ch. 11Mother trouble.

p

Nov 26, 2022
Ch. 10Jeremy

p

Nov 26, 2022
Ch. 9What's a lemen?

p

Nov 25, 2022
Ch. 8Fine buttocks!

p

Nov 25, 2022
Ch. 7Rogues

p

Nov 25, 2022
Ch. 6Cooperate, please?

p

Nov 25, 2022
Ch. 5Whisked away.
Nov 25, 2022
Ch. 4Under her spell.
Nov 25, 2022
Ch. 3A new demon is born!
Nov 25, 2022
Ch. 2Blue eyes and taste buds!
Nov 25, 2022
Ch. 1Naked men
Nov 25, 2022